We spend 416 days of our lives in our bathrooms on average, according to research commissioned by B&Q! Despite us using our bathrooms so often, they are often the smallest room in our homes. Add in the fact that we store many of our toiletries and cleaning products in these spaces, and that means your bathroom can quickly become cluttered, messy and a hassle to use.
Make getting ready in the morning less chaotic, without breaking the bank, with our 10 smart bathroom storage hacks – below.
1. Use up empty wall space with a wall rack
Your bathroom sink often ends up as a dumping ground for products. But, a cluttered sink can make your bathroom seem messier than it really is! If you've got unused wall space near your sink, then it's easy to transform it into storage for these products.
Attach a wall rack next to your sink to keep those items that you look for most at an easy-to-reach level. A wall-mounted wine rack is the perfect size for clean, rolled-up towels.
A handyman can put up racks and rails in no time – find one local to you on Rated People.
2. Upgrade your in-shower storage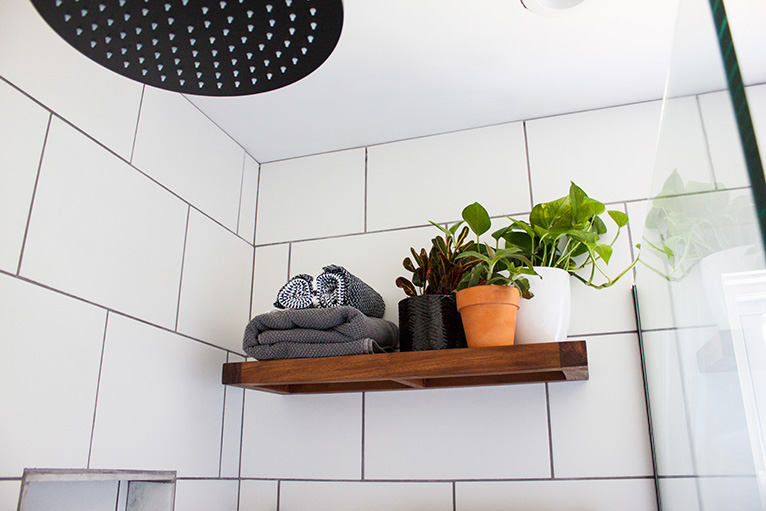 Shower caddies that attach to your shower wall with suction cups are a common storage option for walk-in showers, shower baths and shower rooms alike. Annoyingly though, suction cups can slip off the tiles over time, due to the wet environment.
A shower shelf is a great affordable alternative. It's an easy-to-clean, sturdy surface that'll keep your shower time essentials off the sides of the tub. Opt for a glass shower shelf for a barely-there look.
Handymen often charge by the hour. So, they can put a shower shelf up for you whilst they're visiting your home to complete other jobs. Find a vetted handyman on Rated People.
3. Carve out space with a wall niche
A stylish alternative to a shelf, a wall niche is perfect for creating more room in your bathroom without building out. Install a wall niche above your sink to add space for the products you'd usually keep on your sink, such as hand wash. Or, place a wall niche in your shower to house bottles of bubble bath, shampoo and body wash.
It's important to keep the existing wall studs, electrical wiring and plumbing safe from harm whilst you're installing a wall niche. Otherwise, this simple job could snowball into an expensive repair project.
Avoid any safety issues by hiring a professional bathroom fitter from Rated People.
4. Place a storage ladder over your toilet
Freestanding ladder shelves are a trendy addition that's popular amongst the home design bloggers of Pinterest and Instagram. Place one flush against the wall over your toilet to add extra storage to your bathroom, without taking up scarce floor space. It's a great spot to keep extra toilet rolls! You can decorate your ladder shelf with plants, wicker storage baskets and glass jars for a decorative touch of texture, too.
Check out more of 2021's top home improvement ideas as well as 5 of our favourite home design ideas for the year.
5. Maximise existing cabinet space
Out of sight, out of mind – that's the approach many of us take when it comes to our under-sink and mirror cabinets. If you've noticed things falling out when you open the doors, then it's time to get organising. There are plenty of quick additions that'll make it easier for you to organise your cabinets (and keep them that way).
Shelf risers: Add more surface space into your bathroom cabinets with an extra shelf.
Rotating tower: Reach those products at the back of the cabinet easier by simply spinning the tower.
Pegs and hooks: Self-adhesive pegs and hooks can be quickly attached to cabinet doors to hold hair tools, washcloths and other hangable items.
6. Dig out your cake stand
Most of us have a cake stand that we've banished to the back of the kitchen cupboard after using it once. Repurpose yours into a functional bathroom storage space, using barely any effort, by:
Using it in your cabinets: A multi-tiered cake stand is perfect for creating more shelf-like space.
Placing it by your sink: A pretty cake stand is a great platform for holding your hand soap, toiletries or plants without taking up too much space around the sink.
Read more tips on bathroom accessories in our budget bathroom decorating ideas blog post.
7. Install under-sink bathroom storage that fits around your pipes
Pipes and plumbing making it awkward to transform your sink into a storage space? A bespoke storage unit is a great solution. A carpenter can craft a vanity unit with drawers that not only wraps around the pipes, but also hides them from view. It's a sure-fire way to make your space look tidier.
Take your organisation one step further by separating your products into their own clear sections using a drawer organiser or kitchen utensil tray. You'll spend less time rummaging around in your drawers for that product that you're sure you put in there…
Connect with a professional carpenter to discuss your bathroom cabinet needs on Rated People.
8. Choose multifunctional bathroom furniture
If space is really tight, then go for bathroom furniture that creates double the storage space. This will keep the number of fixtures and fittings that hog space in your bathroom to a minimum. Examples include a shelf that you can also hang things from, a vanity unit with a built-in toilet roll holder or a classic mirrored medicine cabinet.
For more compact bathroom design inspiration, check out our top 5 tips to make the most of a small bathroom.
9. Mount interesting bathroom wall hooks or a rail
You've probably already got hooks for your towels, bathrobe or clothes in your bathroom. Even though they're there for practicality's sake, they're also a little detail that can make a noticeable difference to your bathroom's aesthetic.
Quickly upgrade your bathroom with both practicality and style, by swapping your existing bathroom hooks for decorative ones. From stylish metal finishes to quirky and unique styles, there's bound to be a wall hook that fits your bathroom's design.
10. Swap floor standing furniture for wall-hung versions
The more floor space that you can see, the bigger your bathroom will look. So, swap out your main pieces of bathroom furniture for space-saving, wall-mounted versions. Or, you can hide certain features completely – for example, by replacing bulky radiators with underfloor heating or ThermaSkirt (skirting board heating).
Wondering how to design a bathroom with new fittings? Get to grips with the best ways to avoid bad bathroom design.
Whether you want to upgrade your bathroom with a full refit or simply change a few fittings and fixtures, it's best to get help from a vetted tradesperson. Connect with a local bathroom fitter on Rated People.
---