Over the course of the pandemic, the meaning of 'home' changed for many of us. It's not only where we relax, but also where we work, work out, and more and more, where we socialise.
A house extension is a great way to get more space. Check out our video with Gail Richardson (@therenovatingrichardsons) on how she and her husband transformed their house into the open-plan home of their dreams.
Maximising the space we have at home has become more important than ever, and it can add up to 23% on to the value of your property according to Nationwide – making it a wise investment for later on when a move is on the cards. Home offices and gyms are popular house extension ideas. Check out some examples below.
---
Home office ideas
As companies start bringing staff back from furlough, research by the Office for National Statistics has found that many employers are preferring to have them work from home rather than reopening their workplaces. For some, working from home is set to last longer than we initially thought – and it could become permanent. If you want to create a long-term, dedicated workspace that boosts your productivity and suits your home and budget, look no further than these home office house extension ideas!
A two-storey extension for more than one room
The excavation and roofing costs of building a two-storey extension are very similar to those for building a single storey extension. But, with a two-storey extension you get double the amount of space, which makes the cost per square metre lower in comparison. So, it's a no-brainer really.
With twice the amount of space on offer, you can create a combination of the different types of rooms that work best for you. For example, having your office on the lower storey will mean that it overlooks your garden, so you'll get lots of natural light and quick access to the outside for a quick walk on your break. Plus, if you like to work outside on sunny days, you'll be able to get to your plug sockets and equipment easily. On the upper storey, you could create a bathroom. It'll be easy to access when you're working below in the office, help you to separate home and work life as you won't have to go into the main section of the house as regularly and ease the morning bathroom traffic if you live with others!
Take a look at our second bathroom design ideas and advice if you're considering having another bathroom built.
A garden office extension for nature lovers
If your extension reaches into your garden, it doesn't mean that you have to lose out on green space. Floor to ceiling windows and doors in a rear house extension will let you experience nature throughout your working day.
For the outdoorsy people out there, the fresh air and green surroundings of a garden office will make you feel like you're immersed in nature, despite being sat at a desk. It can work wonders for productivity too. The World Green Building Council found that office workers with access to natural light and views are more productive than those without.
A window fitter will fit double glazed windows of all sizes in your extension.
A compact office extension for space-saving
Even the smallest of house extensions can make for ample office space and be just as useful as a bigger one.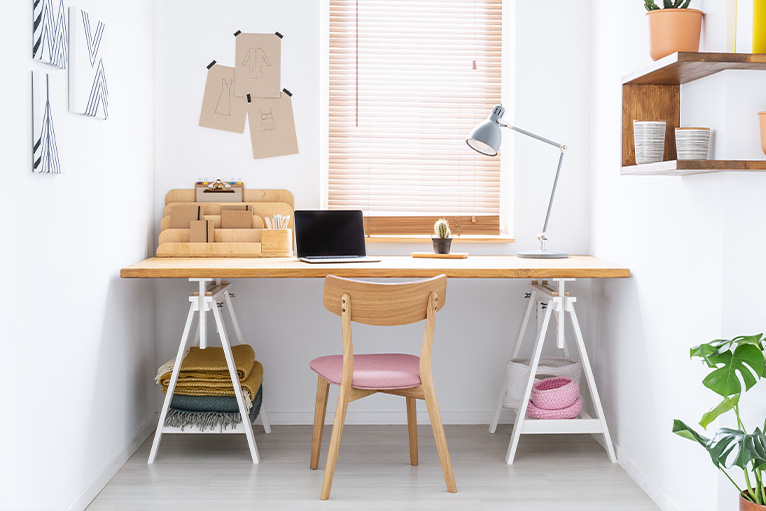 Clever space-saving furniture will help you to maximise your office area. A desk that stretches across the room will provide plenty of surface space and could even accommodate more than one person. Built-in storage will help to keep documents, stationery and equipment out of the way and reduce the clutter that can make rooms seem smaller. A carpenter can craft a bespoke solution in your office space.
A multi-purpose office extension
If building an extension just to have your own office might not go down well with family or friends, a multi-purpose house extension could be the answer. You can split your office into different zones to suit everyone's needs: it could be an office area by day, and a living space ideal for chilling out in during the evening.
A bookcase or shelving unit is a cost-effective way to break up the different areas in an extension – plus, they're easy to move around if you want to change the way your extension's set up. If you're looking for a more permanent fixture, a partition wall will provide much more privacy between the different areas in your extension. A handyman can put together flat-pack furniture for you.
For more décor ideas, check out our tips for designing your home office.
---
Home gym ideas
If you're one of the millions of people who enjoy working out, but find it challenging to get to and from the gym most days, a home gym will help you keep up your fitness regime from the comfort of your own home. They offer a comfortable and private environment, are often cheaper than a gym membership in the long-term and will help you to fit your workout sessions around your schedule – much better than skipping regular workouts or rushing to the gym after a late finish at work. Here are some of the best home gym house extension ideas that will inspire you to get moving without breaking the bank.
The family workout room
If you've ever tried to work out with children in the house, you'll know it's not easy. A great solution is to create an environment where all of the family can exercise together or separately.
There are plenty of ways to make a family workout room engaging and exciting for your kids. Mirrored walls will help them to perfect their dance and gymnastics routines, whilst allowing you to improve your posture and technique as you exercise. Plus, mirrors reflect light across the room and make it look bigger and more open.
If neutral flooring is a bit too dull for your tastes, you can get all sorts of brightly coloured, cushioned flooring to give you a boost. As well as being shock absorbent and helping to prevent injuries from slips and trips, rubber or foam flooring can support your joints during high impact activities. A floor fitter can advise you on the best option for you.
Top tip – consider soundproofing so you can work out without disturbing someone in another part of the house.
Find out how you can use light and mirrors to create space in your workout room.
A wellness studio
For those who like their workouts to be a relaxing and stress-reducing experience, a home wellness studio is the perfect space to practice things like yoga, Pilates and barre. By creating a peaceful space without distractions in the comfort of your own home, you can nourish your mind, body and soul.
Adding plants to your space is a budget-friendly way to make your space look more relaxing. Plus, they can also support your fitness and general health activities, according to the Royal Horticultural Society – for example, studies have shown that plants can help to reduce blood pressure.
Keeping your space clear and clutter-free plays a big part in making sure that it remains tranquil. A carpenter can create clever built-in storage for your yoga mat, weights and other equipment. If you're tight on space, a carpenter can also craft multipurpose storage, such as a training bench with a built-in dumbbell rack.
The modern gym for extra motivation
If you're lacking the motivation to workout, a modern-looking home gym will definitely spur you on. Lighting, wall colours and flooring types are all features that you can adapt to create a contemporary workout space.
Some people find having bright lighting and bold wall colours to be game changers when it comes to working out, whereas others are jumping on the new trend of using dim lighting in different colours to reduce anxiety and increase focus by helping them to be less self-conscious. Depending on what motivates you, you can customise your lighting set up easily. An electrician can help you to find the best set up for your space and needs.
If you like to reward yourself after working out, you could even add a home drinks bar in the corner of your gym. It's all about creating a fun, personal space that works for you.
---
For an in-depth look into how much you can expect to spend on different types of house extension ideas, take a look at our cost guide.
A skilled builder will work with you to bring your vision for your house extension to life. To get in touch with one near you, post your job on ratedpeople.com.