Coronavirus, or COVID-19, has brought about many changes to working life over the past few months, most of which businesses weren't prepared for. However, companies across the UK have shown remarkable resilience in their response to these challenges. It's important that we use the lessons that we've learned during this time to come back bigger and better as lockdown eases.
Here are six key trends that you should get involved in now to make your business stronger than ever for the long term.
1. Implementing workplace wellbeing
Managing your employees' wellbeing, as well as your own, should always be a key priority for business owners. During the coronavirus pandemic, many of us have become even more aware of the importance of our mental and physical wellbeing. As of 3rd July, 70% of UK adults have reported feeling somewhat or very worried about the effect of COVID-19 on their life, according to the Office of National Statistics.
To help manage workplace wellbeing, Mental Health First Aid England recommends that you:
Be flexible – for example, by encouraging flexible working hours and paying extra attention to workload management for employees that have challenging circumstances, such as having children to look after during the day.
Encourage best practice – reminding employees to take care of themselves by taking regular breaks, exercising and eating well, amongst other things.
Make time for supportive conversations – setting time aside to talk to anyone who's struggling with their mental health.
Don't pour from an empty cup – If you don't prioritise your own wellbeing, then you won't be able to effectively support anyone else's wellbeing.
Read more about how you can support employee wellbeing during lockdown on the IOSH website.
2. Keeping a good work-life balance
Prioritising your wellbeing is key and having a good work-life balance plays a big part in that. If you haven't before, now's a good time to put actions such as setting (and sticking to) specific work hours to ensure that you don't eat into your home time.
With a Rated People account, you can cut down on your admin tasks to free up time. Our Lead Tracker feature helps you to manage and keep track of your work, so you can see where you're at, at a glance. You can add jobs from outside of Rated People, too. Find out how easy it is to manage your leads using the Trades app on our website.
3. Using popular/new technology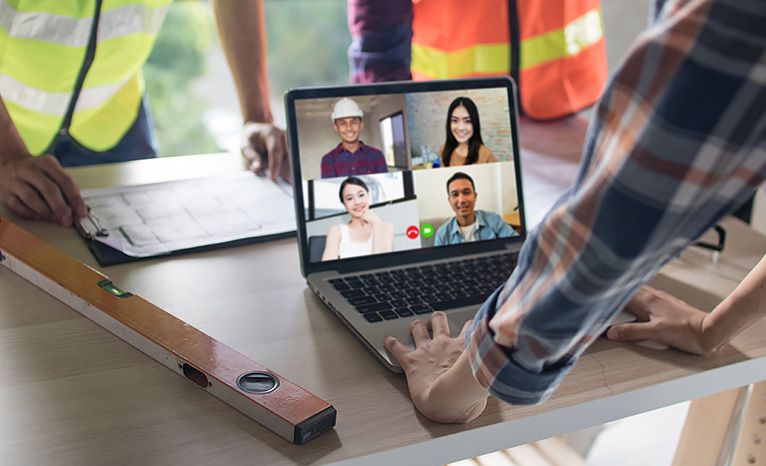 If you run a trades business, then using technology to quote or assess a project can help to cut down on the numerous trips to sites or homeowners' houses – saving you time and a lot of petrol in the long run! For example, one of our tradespeople, Spraytex Weathershield Coatings, has been asking clients to send in pictures of their property, which they then use to give video quotes for jobs. Free tools such as Zoom, Microsoft Teams and Skype are great for video calls.
If you have employees who have been able to work from home, you might want to join the many companies looking to make working from home set-ups part of their future business model. If your business can still operate well in that scenario, you could cut the cost of running a physical office full-time.
4. Being transparent
We all know that communication is key in maintaining good relationships with clients. This is particularly difficult when you can't meet in person! As work picks back up after lockdown, it's important that you keep clients up to date at every step of a project, whether that's by having a video meeting, phone call or sending a quick email.
5. Staying online
As physical shops have been closed for the past few months, people have been spending more time online than ever before. The businesses that had a good online presence before lockdown have been able to continue showcasing their services to potential customers, which helps them to win business and keep money coming in.
Online home services will help you to reach potential customers not only during the current challenging conditions, but also when business is going well. For example, Rated People identifies where homeowners want work to be done and brings those opportunities directly to tradespeople. You can also expand your work area to find new job leads as often as you like – watch Harriet in our Customer Success team show you how to do this in our how to update your Rated People profile video.
You can also build up your online reputation as lockdown eases through tasks such as optimising your website for mobile phones – find out how to do this with our top digital marketing tips to make your small business stand out post-lockdown.
6. Using your network efficiently
During lockdown, lots of people have been trying to do their bit to support local businesses. So, you should reach out to previous customers for reviews of your work/business – it's best to tap into where people already are, which is mainly online.
Moving forward, it's a good idea to include asking customers for reviews regularly in your business strategy, as this will help you to grow your online reputation and win new clients in the long term. If you're a member of Rated People, we'll save you time and effort by sending out reminders to your customers to rate your work. You can find out more about how our ratings work on our website.
Despite life slowly returning back to normal, it's still important to follow the government guidance on how to keep safe whilst working. If you work on a construction site, check out our specific guidance on staying safe on our website.
---
Note: The government has confirmed that there is no limit to the group size when you are meeting or gathering for work. But, workplaces should be set up to meet the COVID-secure guidelines – follow the government's guidance on how to return to work safely.
Note: Countries may approach the different phases of lockdown differently. This guidance is in line with the UK government's advice and is being followed in England. See the specific government websites for any differences.
Find out specific advice for tradespeople in our Coronavirus: FAQs for tradespeople.