Did you know that 88% of people trust online reviews just as much as personal recommendations (according to Search Engine Land)? As a tradesperson, customer reviews of your business have never been more important for winning new work. Lots of people search for tradespeople online, and they use reviews to help them choose the right one for the job.
Find out how reviews help your business and how to get genuine ones, in the blog post below.
---
How online reviews help you succeed
1. Reviews help build your reputation
By seeing a history of satisfied customers, new customers can form a picture of how reliable, safe and suitable your business is. All the reviews you get play a big part in pitching your business to potential customers, before you even know who they are. All you have to do is encourage your customers to write reviews and take on all the feedback you get.
Accreditations and certifications will also help customers to see you as an expert. Include any that you hold on your website, social media profiles and anywhere else you can, so customers can see that you're knowledgeable and suitably qualified to carry out work.
2. Reviews help you tap into new markets
According to Plusnet, over 55% of millennials (aged 23 – 38 at time of writing) avoid speaking to a tradesperson in person or over the phone, wherever possible. Instead, they look at online reviews and social media posts to find someone suitable for the job.
3. Reviews help you stand out from your competitors
The more reviews you have, the better your business looks. It's important to keep adding to your reviews, as BrightLocal research has found that 73% of consumers are only interested in reviews written in the last month. Up-to-date feedback shows potential customers that you're popular and trusted!
Lots of homeowners won't remember to leave a review of your work. So, once you've finished a job, you should tell the homeowner why leaving a review would help you out. Whether it's because you've just set up on your own and want to build up a clientele, or you've expanded into a new work area – make a personal, timely request and you're more likely to get the review you need.
---
3 ways to get genuine reviews
1. Social media
From sharing photos of your work on Instagram and Facebook, to tweeting useful tips and even posting quick 'how to' YouTube tutorials, social media is a great way to boost your online reputation. Happy customers are more likely to share their positive reviews on your social media pages if they can see that you're active.
2. Your website
By creating your own website, you'll have more space to share information about your company than you do on social media. You can keep case studies and testimonials on your website, so potential customers can read about all your happy customers, in one place.
3. A ratings-based work platform
A quick and easy way to earn positive homeowner reviews of your work is to join a ratings-based work platform, such as Rated People.
The cost of social media advertising and website SEO (so that homeowners find your website easily on search engines like Google) can really rack up if you don't have the time or knowledge to do it yourself. Through in-built SEO features, a Rated People profile works just like your very own website – but without the hassle! Plus, it allows you to share your ratings to thousands more potential customers on social media, with just the click of a button.
---
Managing your online reputation
Whether it's good or bad, it's important that you listen and respond to all feedback that you get. A 'thank you' message will suffice for positive reviews. In case it's a negative one, then follow these 6 simple steps to handling customer complaints online:
Be polite – Respond to the customer within a timely manner, within a week is standard. When you do, thank them for taking the time to share their feedback.
Get the details – Ask the customer for as much detail as possible, so you can understand exactly what the problem is. Keep a basic spreadsheet of all complaints, so you can spot any trends, too.
Listen carefully – Acknowledge their complaint, apologise if appropriate and ask them how they'd like it to be resolved. This could be a refund, repair or replacement, for example.
Confirm the solution – It's best to do this in writing or by email, to avoid any misunderstandings down the line.
Go further – If appropriate, you could offer the customer a goodwill gesture, such as a discount.
Follow up – Once the issue's solved, contact the customer to see if they're happy. If there are any delays with resolving their issue, then make sure you let them know.
---
Tap into your existing contacts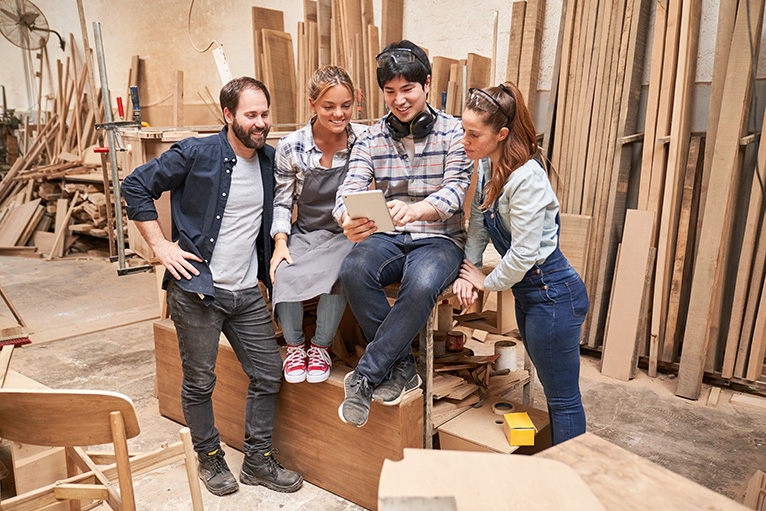 Happy customers are willing to share their experiences more often than you think. Especially during the coronavirus (or COVID-19) pandemic, when people are spending more time on the Internet, shopping online and trying to support local businesses.
Over 50,000 tradespeople use Rated People to access to over 1 million jobs posted on the platform every year. Find out what a Rated People membership could do for your business today.
Access 75,000 leads a month and build your reputation online.
Enquire now