Most of us tend to start looking in estate agents' windows and browsing property apps when space at home starts to feel tight. But moving can be the last thing that you need to do if you need room to grow.
Don't move, improve
Looking to add an extension to your own home can make a lot more sense, as well as costing less than upgrading to a house with an extra bedroom. This is especially true in the current property market, where the leap to a home with an extra room can cost you £100,000 or more.
Homes are in short supply and the higher the bedroom count, the fewer the homes available. So, adding an extension makes the best economic sense, whether that is a small rear single level extension or a double-height add-on to your semi-detached. This is especially true if you love the area where you live and don't really want to leave.
Yes, living on a building site can be a pain in the short term. But it is far less of a hassle than shifting the kids to a new school, seeking out a new GP and finding the gym, shops or bars that you like all over again.
Extending your home is, thankfully, more simple in 2016 than it has ever been. This is largely thanks to the liberalisation of the laws surrounding permitted development. These rules have been loosened for any builds completed before the end of May 2019, meaning that now is the ideal time to draw up plans and book a builder.
Need-to-know rules
The basic rules state that you can build any single-storey extension at the rear of your home without planning permission, so long as it is no larger than three metres long. This number grows to four metres from the rear of the house if you live in a detached property. The temporary relaxation of the law means that you can now build up to six metres behind any kind of attached property or eight metres behind a detached home. Although buildings over three metres long, or four metres at the back of a detached home, are subject to you informing neighbours. Check out the the latest rules.
In all cases, you will, of course, have to comply with building regulations and will still need to seek planning permission if you live in a listed building or in a conservation area. Your builder should be able to help you with the whys and wherefores of this but if you are in any doubt about how the rules apply to your home, then simply get in touch with your local council's planning department.
Things to consider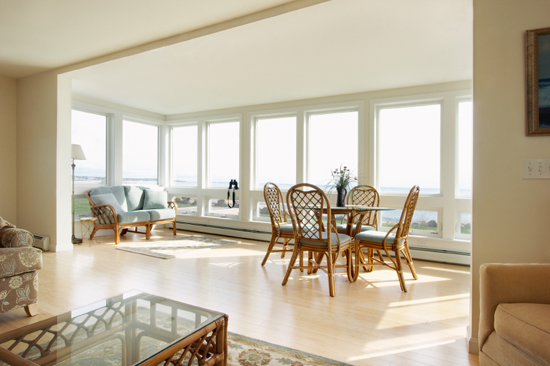 When thinking about the size of your extension, you need to take in various factors, such as the impact it will have on your current home and the land around it. Permitted development does not allow you to cover over half of your garden with an extension. This will be particularly relevant if you live in a terraced house or a semi-detached with a small garden. Side extensions must be a single storey and cannot be higher than four metres high.
Size will also have an impact on light in your home. French doors, patio doors or concertina doors are the ideal solution for an extension. You should also think about having a large skylight in the roof. This will add to costs, but it will be well worth it by allowing more natural light into your home. Rear extensions can become long, dark caves and you will also spend more on electricity if you need lights on in the daytime.
A double-height extension offers double the space but will require a lot more structural work, including more complex foundation and roofing work. This can often mean more than double the price. These cannot be more than three metres long under permitted development and must not be higher than your current roof. So you may find that you can get as much space with less fuss by sticking to a single storey, especially if you have a sizeable garden.
Need help improving your home? Let us help you find a builder. Post a job for free describing your project and up to 3 local builders will provide you with quotes for the job.