Your hallway is your chance to make a good first impression on your visitors. Think about entering a friend's home and seeing a pile of shoes cluttering the path, or washing hanging over a radiator along the wall. We've all been there but it's not something you'll want to replicate in your own home. If you have a small space, making things light and inviting is all the more important.
Hallway lighting ideas
Getting your lighting and paintwork right will make a big difference. Make the most of your natural light by using mirrors. As the light bounces around, you'll brighten up the room and widen it at the same time. There's no limit on size other than what the dimensions of your wall will allow. The larger the better!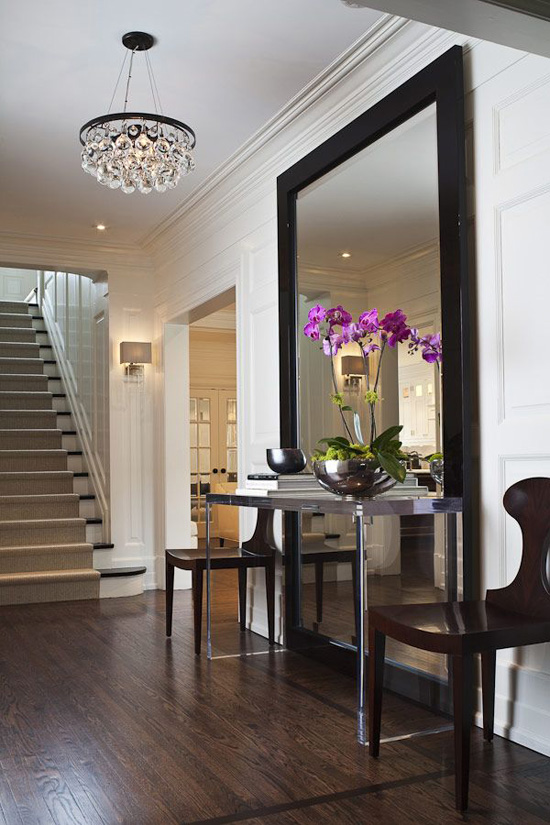 Image Source: Pinterest
To create a welcoming space, shy away from dark paint and wallpaper colours and splash your walls with light, warm shades instead. If you have a specific question about paint colours, why not head to Rated People's Ask an expert section where a professional painter or decorator will be able to offer advice. Don't forget to think about your line of vision once you cross your doorstep too. You want to create flow, removing any obstructions like the pillar I had in my own home, to let the light flow through and encourage people to move through rooms.
Work on your staircase
Not every home has a pillar but far more common is the boxed-in staircase. If you're in need of more light, you can do wonders by simply opening it up and taking off the wooden panels surrounding it. A decent builder will be able to help you achieve the results that you're after. Whether you have a pillar or boxed-in staircase that needs attention, it's important to not be tempted to knock it down without consulting a structural engineer first. The last thing you want to do is compromise your home's structure and your family's safety.
Image Source: Apartment Therapy
Once you've got the natural lighting fixed, make your property work that bit harder by thinking about installing low-level lighting along the bottom of a wall extending up your stairs. Dimmer switches will let you change the lighting to suit the time of day and your mood but lighting can and should start from outside too. Aside from warning you when somebody is approaching your home, halogen floodlights are a great deterrent for burglars and will be welcoming to your nearest and dearest. They're a starting point for you to carry through to your hallway, making sure that you can illuminate the hallway with a ceiling light for walking through in the dead of night.
Hallway furniture ideas
If you have enough space, finish things up with a console table. It makes a nice hallway piece and it gives you somewhere to place a lamp for an extra boost. Just be careful with your security; don't leave your keys on the table. A burglar's favourite trick is the hooked keys on a wire to get inside your home without causing any damage.
Image Source: DecorPad
More often than not, great hallways lead to great homes and with a bit of work, you can send yours straight up the pecking order.
Best,
PHIL
Don't forget that at Rated People you can find local tradespeople for any job, no matter how big or small. We have over 30 major trade types, from carpenters and plumbers to painters and pest control specialists