Changing wall coverings is a quick and easy way to update a room. Whether you choose paint, wallpaper or a combination of the two there are a number of things you should consider.
Location
Bathrooms and cloakrooms are apt for creativity. If there's a colour or a print that you love but are too afraid to use in a big space such as the living room, the downstairs loo or a statement wall in the bathroom can provide the perfect location for a splurge of colour or a bonkers wallpaper pattern.
Modern wallpaper is relatively durable but isn't best suited to rooms with high humidity levels, such as kitchens and bathrooms. Wallpaper has a tendency to peel away from the wall in humid areas, it's possible to replace damaged sections but it is difficult to get a good match even if you have extra rolls for the original batch as sunlight will have faded the paper in the remaining areas. In many cases the whole room/wall will need to be re-papered to achieve a flawless finish.
Paint is the better option in rooms with high humidity levels because unlike wallpaper you can buy paint suited to both the kitchen and bathroom that can deal with humidity and is mould resistant.
If you do decide to use a wallpaper in a bathroom, it's best to add a tiled splash-back above the sink to protect it from splashes. A safer option is to tile the lower half of the wall and paper the top half where it is less likely to get splashed, but if you do decide to go all out make sure you don't paper too close to the bath and bear in mind that you will need to re-decorate every couple of years to keep that high-quality finish.
MORE THAN 4600 5✭ RATED PAINTERS AND DECORATORS READY TO HELP WITH HANG WALLPAPER OR PAINT.
POST A JOB HERE
Variety
Fully wallpapered rooms are making a comeback. It began with the feature wall and now wallpaper is back on trend. This revival has meant there are now endless shades, patterns and textures available on the high street. Developments in digital printing have bought down the cost of bespoke designs too, with custom images now available as wallpaper.
Stripes never date and have the ability to improve the appearance of a room's proportions, for example horizontal stripes can make a room look wider while vertical stripes make ceilings appear higher. More modern designs include Farrow and Ball's leopard print paper, called Ocelot, that looks far better than it sounds.
If you want to pick the perfect shade then paint is the option for you. Many paint brands allow you to mix your perfect shade, take an item or colour swatch to your local DIY store and they'll mix it for you as a custom job.
Designing a colour scheme is easier with paint than wallpaper thanks to paint companies creating ready-to-go colour schemes that take the risk out of creating your own colour palette. One of the main benefits of paint is if you do fancy yourself as an interior designer and you get it wrong it's easy enough to paint over your mistake, whereas wallpaper takes a bit more muscle and scraping to rectify.
Durability
Paint can chip easily and will need to be touched up once in a while. In rooms with high moisture levels a waterproof paint should be used to prevent damage occurring. Generally a room will need to be repainted every 3-5 years, sometimes more frequently in high traffic areas. There are new paints on the market that you can scrub, if a child takes a crayon to the wall or something gets spilt you won't need to repaint the wall, the downside is the finish — it's rough and less visually pleasing.
You might not think wallpaper would stand up to pets and the wear-and-tear inflicted by children, but modern wallpaper is durable and easy to clean. However, it is better suited to rooms such as dining rooms and bedrooms where there is minimal moisture and less footfall as it can be difficult to make running repairs. If you do have pets or small children but want wallpaper, the wipe clean vinyl varieties are your best option.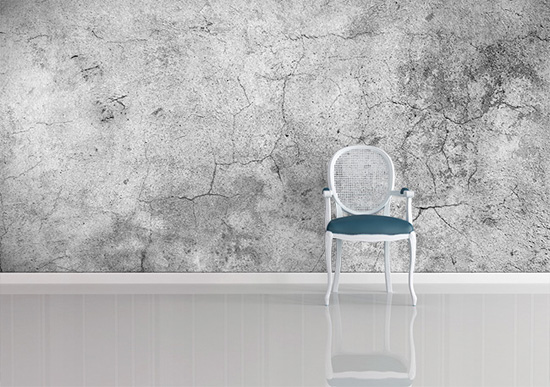 Cost
It's generally cheaper to paint a room than it is to wallpaper it, but wallpaper tends to have a longer life-span so the costs even out over time. If you're someone who re-decorates every few years the longevity of the wall covering might not be a concern, however.
Whether you choose wallpaper or paint, you get what you pay for with the cheaper options tending to not stand the test of time.
The opacity of cheap paint is usually on the low side, three coats could be required rather than two coats of a better quality, more opaque paint. If a cheap paint is used and more coats are required to achieve the desired finish, the costs often equal that of two coats of quality paint and if you're paying a decorator to do the job for you, you'll end up paying more for their labour. If you do opt for paint, choose a quality brand: it will last longer, create a better finish and the overall cost won't be much more than if you were to use an inferior product.
Similar to paint, cheap wallpaper is a diseconomy. It's thin and more prone to damage. In some cases if your walls aren't in good enough condition to paint (without being re-plastered), a good quality, thick wallpaper will cover defects in the walls cheaper than the cost of plastering and paint and without the hassle and the mess involved.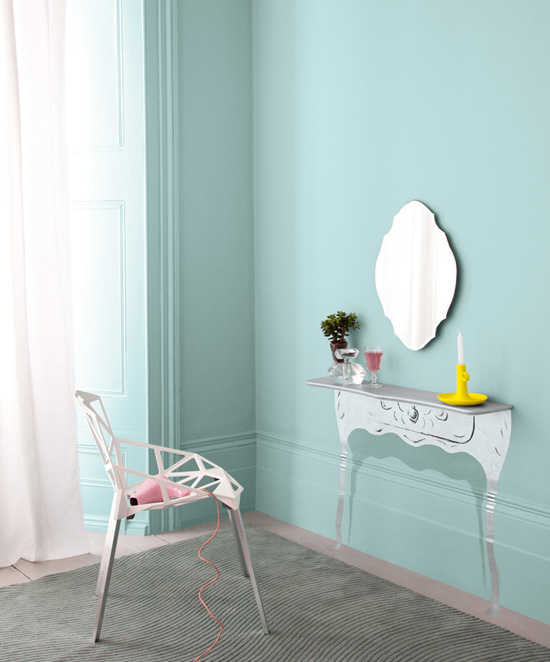 Choosing between wallpaper and paint will often be influenced by your budget, the room you're decorating and how often you're prepared to re-decorate. A combination of paint and wallpaper can provide the best and most creative finish. Whichever option you go for, getting the best result is down to application, don't cut corners with the preparation and if you're not a talented DIY-er, call in an expert decorator – there's nothing worse than wonky paint lines and badly matched wallpaper patterns.