I love a season change, and as much as I adore summer, autumn is one of my most favourite seasons. Think crunchy leaves, warm cider on the stove, fire flickering in the grate. Excited? I am! Spending more time indoors than out means that we've got to up the ante a tad and make our autumn home decor as deliciously cosy as possible.
Autumn home decor ideas
Add textiles
There are a number of tricks of the trade that will totally cosy up your pad without you having to spend the earth. First, and probably most importantly, lets talk texture. I say this a lot, but think of texture as an herb – it will add pizzazz! Adding the odd throw or cushion in different fabrics (velvet, wool, grown up luxurious materials) will add instant depth, warmth, not to mention visual interest. I am a sucker for sheepskins; sling one of those over a dining chair or the side of a sofa and instantly you will make your space feel cosier and super snugly! Recently I bought a whole bunch of them at Kempton Antiques market for £10 a pop, took them straight to the dry cleaner and they look as good as new!
If you can avoid it, ditch opting for harsh whites, not just when it comes to textiles but really for anything. Harsh white and cooler climes do not mix well so instead plump for softer gentler shades like creams, taupes, and greys; it will help create a tranquil, less sterile feel!
The high street has a ton of super cool throws and cushions this season from Debenhams to Ikea to Habitat – the key is to think luxuriously, the budget doesn't have to be, but the vibe does!
Add character
In order for us to want to hang out indoors we have to make it as tantalising and intriguing as we possibly can and you can't do that unless you have stuff, and lots of it!
If you've got a real fire, for instance, then stacks of logs in alcoves or heaped in baskets will totally make you want to spend time indoors. I am also a little obsessed with that 'baronial hunting lodge' feel, it so shouts autumn.  By that I mean anything tweedy, like a cushion or vase in a tweed pattern, or a chair that you can plonk on sipping a whisky after a long day in the woods (I'm romanticising obviously, but you get my drift)! How about adding some sort of resin animal head on the wall? I've got a moose head outside on my outdoor fireplace and a rhino's indoors and they look fabulous. Another obsession is anything Alpine cabin chic-ish! The odd table in rustic wood, coffee table, and vase – that kind of thing!
Bring the outdoors in
Bringing a sense of outdoors in will also make you feel a tad more cosseted. Whether you plop a fern on a coffee table or console, or get some beautiful seasonal bark from the flower market it will make indoors more special. I am a big fan of seasonal décor, dried leaves, and pine cones in mantles in bowls I think its good to embrace seasonal change and foliage is the easiest and cheapest way to do it!
Add a glow
Add a glow. A set of candles on a table quietly flickering away will add instant warmth and cosiness. Talking of adding a glow, lighting is key for autumn/winter months, think lots of different layers: floor, table, recessed as well as pendants. That way you get this gentle rhythm of lighting going on (design speak for a cool lighting scheme)!
Prioritise aroma
Add some aromatic scents to your home. Aesop have the most beautiful oil which I burn throughout the day, Santa Maria Novella has the most incredible pot pourri which I decant and plop all over the house and is autumn in a pot, basically! I also put a pot of spices on the stove if friends are coming over to supper (nutmeg, cinnamon, cloves), it takes your home straight into fall mode!
Talking of the kitchen, I am a pretty keen cook and as soon as autumn rolls in I often fill glass jars with dried beans, pulses; the kind of thing you stick on the stove to make a stew or some sort of comforting soup. Yum! Jars on islands filled with healthy stuff automatically feels cosy too.
Don't neglect the outside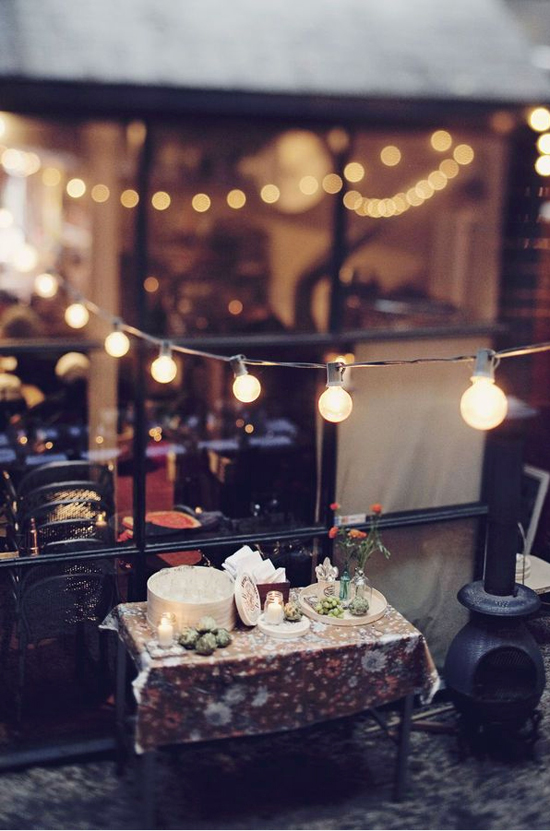 Don't forget about the outside, in autumn I heap the tables in my garden with pumpkins and squashes, big tubs of heathers and then light the garden. When dusk starts to fall it looks and feels so cosy.
If you need a painter/decorator to refresh your home for the autumn months, we know where to find them. RatedPeople.com has thousands of quality, local tradesmen, rated by previous customers who post their reviews on the website. Post your job for free and up to 3 tradesmen will get in touch to quote.