Over twenty-four million households are set to face an energy price cap of £3,549 this coming October. For someone with an average monthly income of £2,615 (after tax), this could mean spending 33 per cent of take-home pay just on energy next year.
This huge rise in energy prices has led to considerable efforts from homeowners to add energy-saving improvements to their homes. In fact, according to our 2022 Trends Report, 52% of homeowners we surveyed said that saving money on bills was their main motivator for buying eco home improvements.
If you're looking for ways to live more sustainably and lower your energy consumption, the below energy saving improvements are some of the most popular eco trends homeowners are having done this year.
1. Loft insulation
An uninsulated home loses a quarter of its heat, just from the roof. It's not surprising then that there was a 419% increase in demand for loft insulation last year, as it's a cheap and highly effective energy saving home improvement.
In your lifetime, your insulated loft will pay you back many times for the cost of installation.
According to the Energy Saving Trust, turning your uninsulated loft into a 270mm insulated loft could save you up to £580 a year, depending on the type of home you have. It will also enable you to save thousands of kilograms in CO2 emissions, helping you to reduce your carbon footprint as well.
On average, a homeowner spends:
| | | | | |
| --- | --- | --- | --- | --- |
| | Detached house | Semi-detached house | Terraced home  | Bungalow  |
| UK average cost of installation | £680 | £530 | £500 | £690 |
| UK average energy bill savings (£/year) | £580 | £255 | £230 | £365 |
Comparison of costs and yearly energy savings for loft insulation
In most cases, it takes under a day to install loft insulation. There are several types of insulation, that come in a range of prices. If you're interested in getting your loft insulated, speak to some skilled insulators, and get some free quotes today.
FIND A LOFT INSULATOR
2. Cavity wall insulation
Like loft insulation, cavity wall insulation is another top eco home improvement that saw a 352% increase in demand last year. Adding a layer of cavity wall insulation can help trap up to a third of your home's heat, preventing it from escaping through your walls.
Within just a few years, cavity wall insulation will pay you back for the upfront cost of installation, helping to make your home cheaper to heat. You may also be eligible for a grant under the Energy Company Obligation (ECO) scheme. You can find out more on this here.
| | | | | | |
| --- | --- | --- | --- | --- | --- |
| | Detached house | Semi-detached house | Flat | Mid-terraced home  | Bungalow  |
| UK average cost of installation | £600 – £800 | £450 – £600 | £300 – £400 | £350 – £450 | £400 – £500 |
| UK average energy bill savings (£/year) | £480 | £285 | £145 | £180 | £195 |
Comparison of costs and yearly energy savings for cavity wall insulation
Cavity wall insulation will make your home warmer, lower your energy bills, and your carbon footprint. It can also add an average of £11,764 to the value of your property!
Not all homes have cavity walls (the chances are higher if your home was built between the 1920's and 1980's). You can have a survey carried out to find out whether you are eligible for this kind of insulation.
It takes between one and four hours to insulate cavity walls. There are a huge range of cavity wall insulation types, from insulation boards to wool or mineral fibre to EPS or PUR.
If you're interested in getting your walls insulated, get into contact with some specialist tradespeople, and request some free quotes today.
FIND A CAVITY WALL INSULATOR
3. Electric car charging point installation
Consumer demand for electric vehicles is greater than ever, with over 520,000 electric cars on the UK roads, as of July 2022.
This has also led to a demand increase of 404% for home charging points. Homeowners with electric vehicles who choose to have a car charging point installed in their home will also benefit from an average increase in home value of £11,538.
A home charging point can significantly lower your annual energy bill. This is because public station electric car chargers usually cost over double the amount your home charger does. Charging your car battery at home for 10,000 miles a year will cost you £523.18, whereas charging for the same amount at a public charge point will cost you £1,297.78, according to the Energy Saving Trust.
This means that, within just a few years, your home charger could pay you back for the upfront cost of installation, which is of around £950 (for a 7kW charger).
Not to mention that home car chargers are incredibly convenient, allowing you to charge your car whenever you like, and to benefit from lower tariffs during the night. Keep in mind though that you need to have either a driveway or garage to have a home charger installed.
If you own an electric car, and are considering having your own car charger installed, you can request some free quotes here.
FIND AN ELECTRIC CAR POINT INSTALLER
4. Underfloor heating
Underfloor heating is an incredibly effective way of heating your home and does so in a far more eco-friendly way than other heating methods, like radiators. Substituting your radiators for a more efficient and low maintenance underfloor heating system will allow you to get rid of pesky cold spots and will free up your wall space, making your house seem bigger.
There are two kinds of underfloor heating (UDH), called wet UDH, and electric UDH. It costs between £1,350 and £1,850 to retrofit wet UDH in a 10 m2 room, whereas it costs between £600 and £850 to retrofit electric UDH in a 10 m2 room.
It currently costs around £161 a year to run wet UDH, and around £768 a year to run electric UDH in a 20 m2 room. To heat one 10 m2 room for four hours a day will cost you around £10.80 a month using electric UH. That's around 10p per square metre, when run for six hours.
Wet systems are, on average, 25% more efficient than radiators, as they can perform at 50°C, rather than the 70°C – 90°C that radiators require. Though initially expensive to install, UDH does repay itself in the long run in energy savings, especially when paired with a renewable energy source.
It can take anywhere from one to five days to install underfloor heating. As well as saving you on annual energy bills, installing underfloor heating can add an average of £12,290 to the value of your property.
Underfloor heating is a top eco-trend and has seen a 27% rise (for wet systems) and 33% rise (for electric systems) in installations since last year. If you're thinking of getting underfloor heating, let us know what you have in mind, and get some free quotes today.
5. Solar panels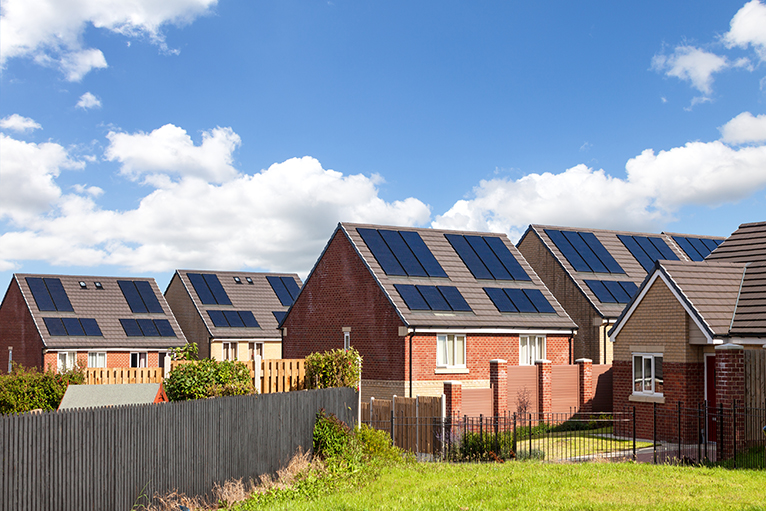 Solar panels were a top ten eco improvement in 2022 and had a demand increase of 17% from last year, with over 60,000 homes installing solar panels in 2021. Though expensive to install, solar panels can add an average of £11,646 to the value of your home.
The advantages of solar energy are endless. Not only is it renewable and produces 'clean' energy, helping you do your bit for the planet, but solar panels are also very low maintenance. Looked after properly, they could last you upwards of 25 years without losing efficiency.
The average cost of a 3kW PV solar panel system is of around £5,500 – £6,500, with more powerful models costing upwards of £8,000.
They can also help you save between £200 and £450 a year on electricity bills. Not to mention that you can also sell excess energy back to the grid (on average, £450 a year), making further money back on your investment.
Research has found that 66 per cent of all households that have invested in solar panels quickly begin to benefit from their presence, especially because they protect against future price hikes. Investing in solar power gives you independence and less reliance on the National Grid for electricity.
Investing in a solar battery storage will allow you to continue using energy after the sun has set. Check out our guide on solar panels, or request some free quotes today if you're ready to upgrade to this renewable energy source.
FIND A SOLAR PANEL INSTALLATION SPECIALIST
Unfortunately, the cost of electricity is continuing to rise. Making your home as energy efficient as possible is one of the smartest things you can do to cut your energy bills and keep you and your loved ones warm this coming winter.
If you're ready to get started, find a tradesperson in your area, and join the millions of homeowners who are also taking steps to live more sustainably this year.
FIND A LOCAL TRADESPERSON