Social media can be a great way to connect to local customers and boost your business. Plus, 1 in 4 millennials – who spend more than the national average on hiring tradespeople annually – say that they wouldn't hire a tradesperson that doesn't have social media accounts!
Perhaps you're already using Facebook or Twitter personally, but below is a brief roundup of how each platform can be used by businesses, including the pros and cons.
How should you use social media?
Do you like to, or would it be helpful, to take lots of photos of your work? Maybe choose an image-based platform such as Instagram. Perhaps you prefer the short character limits of giving updates in text on Twitter or being able to get creative with video on Youtube. It's better to use one platform really well – posting regular, engaging content and being able to respond to customers – than spread yourself too thinly across multiple platforms.
One type of content that you can share easily is the reviews of your work that you get on Rated People. When a homeowner leaves you a rating, you can share it straight to social media. It's a fast and effective way for your followers and potential customers to see the great job you've done! Find out how our social sharing feature works.
YouTube
Pros: Great for sharing video content, such as 'how to' tutorials and behind the scenes on jobs. People care much less about slick videos these days – if you have a smartphone and something to say, you're nearly there.
Cons: Video content needs some planning and production time that not all tradespeople will want to invest in.
Facebook
Pros: Probably the most popular social media platform for businesses and customers alike. Lots of customers may expect you to have a Facebook business page. You can post all kinds of content – from polls, to videos and images. If you have a Facebook account already, you'll be familiar with the platform and how it works. So, it should be an easy platform to start with.
Cons: Some businesses have found that Facebook has reduced 'engagement' levels, forcing them to pay to promote posts (pay for advertising) so more people see them.
Twitter
Pros: A Twitter account is one of the simplest social media platforms to set up and maintain. Twitter is also great for all types of businesses. It's quick to 'retweet' stories, updates or useful advice to your followers, and to reply to questions or comments from both your followers or the wider Twitter community.
Cons: The short character count may be restrictive for some tradespeople wanting to share more details about their jobs or business.
Instagram
Pros: Popular for all kinds of businesses that want to post photo or video content. The content doesn't need to be made with a professional camera. A smartphone camera will do, as long as the photos are eye-catching, inspiring or useful. There are lots of homeowners and other businesses using Instagram to document home improvements and home makeovers, so it's a good community to become a part of for all kinds of trades.
Cons: Owned by Facebook, so you'll also need a Facebook account to set up a business profile and create adverts.
LinkedIn
Pros: LinkedIn is a professional social platform, which is better for business to business networking and hiring new employees. It's also a good platform for learning and reading about trade and business tips. Could be a good secondary platform to use.
Cons: Harder to reach homeowners.
Pinterest
Pros: Lots of homeowners use Pinterest for home improvement ideas and interior inspiration. If you have a blog with beautiful photos of your finished work, you can 'pin' your photos to Pinterest 'boards' which homeowners can view and 'save' to their own boards. Pinned photos act as a link to drive traffic to your site. If used well, Pinterest can be very influential and one of the best platforms to drive traffic to your website.
Cons: You need to post consistently beautiful photo content. So, it's probably only useful for certain tradespeople, such as interior specialists or landscape gardeners.
Social media tips and best practice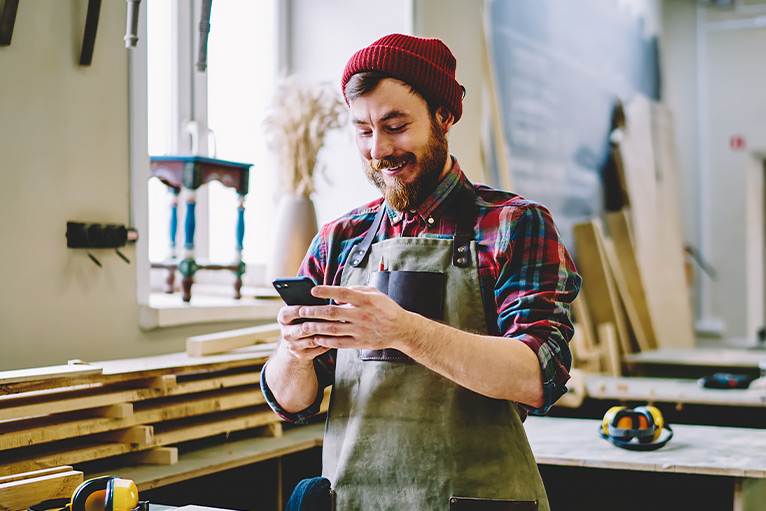 What do you need to get started with social media?
Business name and @handle or platform name.
Short, informative business bio – for example, your key services and where you're located.
A link to your website, blog or Rated People profile page – if you use a trackable link you can see how many people click through from your social page.
Your contact details.
An idea of things you want to post initially – stories about your business, examples of your work, ratings from homeowners, questions for your followers. Try to get in a habit of posting regularly, to build your following.
A list of people you can 'follow'. This helps to build your following and helps you to engage with your online community. Your list could include your current customers, business partners and trade organisations. Many social media platforms will suggest people for you to follow when you join.
A list of trade hashtags. These will help you find people to follow and conversations to engage in. There's loads to get you started in this list of 50 hashtags for construction marketing.
Pre-written responses for complaints or problem customers – this means you can create calm and professional answers instead of reacting and replying hastily or unprofessionally.
What do you need to keep going?
Remember, if you stay professional, engage with customers and post consistently, social media can be a real boost for business. To get started, give us a follow on our social media platforms: