With Easter just around the corner, there's no better time to fill your home with the joys and colours of spring. Whether you're celebrating with family and friends or hosting an Easter egg hunt for the little ones, switching up your Easter decorations is a great way to make your home feel fresh and ready to entertain.
Stuck for ideas? We've got you covered. Easter decorations don't have to stop inside your home with this year's trends showing more and more people taking the fun of Easter outside. From colourful Easter themed garlands and centrepieces to garden plants and Easter trees, get inspired by our top 5 Easter décor ideas below.

1. Easter-themed mural
Thanks to the stain repellent technology of washable paint, you can transform your home's walls into your dream Easter creation. Whether it's Easter bunnies or pastel colours of pink and yellow, customise your Easter décor with a mural of your choice.
Need professional help? Find trusted painters and decorators on Rated People.
FIND A PAINTER AND DECORATOR
2. Easter garden décor
There is no better way to host an Easter egg hunt than by decorating your garden with Easter décor. Opt for wooden bunny cut-outs or go all out by adding small hedges to create ideal hiding spots.
Find a gardener on Rated People to bring your ideas to reality.
FIND A GARDENER
3. Easter porch décor
Welcome the Easter bunny to your home by adding colourful and fun Easter décor to your front porch. By adding an Easter themed tree, inviting wreath or personalised signs.
Don't have professional carpentry skills? Find a carpenter on Rated People.
FIND A CARPENTER
4. Easter colour themes
Thinking of a new way to bring the Easter spirit into your home? Easter doesn't always have to be colourful and bold, maybe it's time to make a change. Choosing dark browns and blue colours can create the perfect rustic, woodland Easter décor.
5. Easter Garland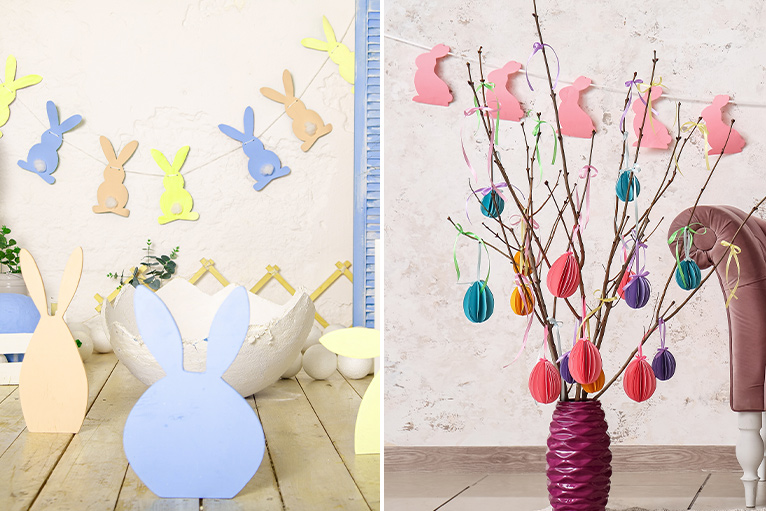 Easter garlands can range from budget friendly crafts or customised flower displays. Garlands can be as easy as you like and are the perfect family Easter project.
Enjoy your Easter!