With the weather warming up it will soon be time to dust off the rusty grill in your shed and get ready for barbecue season! Most of us only cook in our gardens a few months a year, but we all love warm afternoons spent eating outside, so why not make more of it? Set yourself up for easy, al fresco dining by creating an outdoor kitchen.
Whether you love pizza fresh from a wood-fired stove, or can't resist a chargrilled burger, creating an outdoor kitchen will take your outdoor entertaining to a whole new level. There are a few things to think about before you start work: what type of cooking you'll be doing, what budget you have and the size of space you are working with. It's worth considering how you'll cover the space, to protect you from sun and rain; will you choose a good old parasol or upgrade to a fixed awning or permanent porch? 
Here are 4 ways you could design your outdoor kitchen:
1. Barbecue Spot
Nothing says summer like the smell of charcoal. At the heart of any outdoor kitchen is an integrated barbecue, so add some work surface for preparing delicious food, hooks for utensils and shelves for pots of fresh herbs or cocktail makings and you're all set.
Find a trusted gas safe engineer to ensure your integrated barbecue is up to scratch by posting your job on Rated People.
FIND A GAS ENGINEER
2. Pizza Corner
What's more fun than an outdoor pizza party? So, why not install a wood fired pizza oven? They're not just for pizza either; with the right tools and temperature you can cook anything from grilled fish to bread, and even desserts. Another benefit of a wood fired oven is that they aren't open to the elements, so perfect for cooking in unpredictable British weather!
Looking for a trusted bricklayer? Find vetted, professional tradespeople by posting your job on Rated People.
FIND A BRICKLAYER
3. The Lounge Garden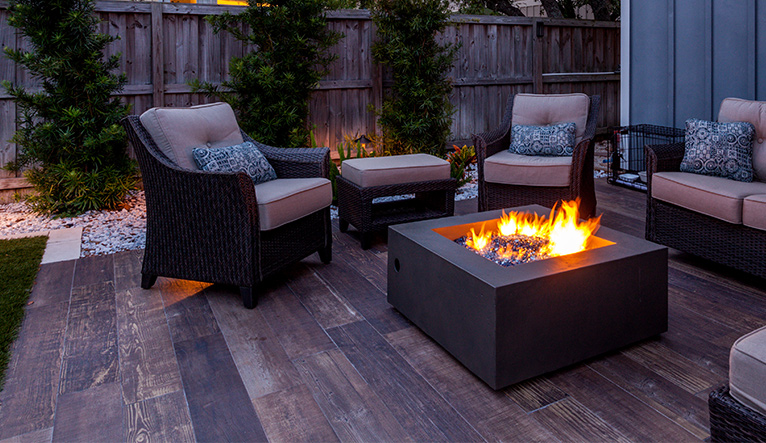 If you love sitting by a fire, drink in hand, then a fire pit is a great way to extend your outdoor fun and keep you warm as the evening cools. You could choose a stunning stone centre for the dining and seating space or a freestanding option that is ready when you are. You can even get fire pits that you can cook on.
4. Intimate Outdoor Dining
You can transform even a small space to make al fresco dining easy. A simple outdoor kitchen only really needs an integrated barbecue, some prepping space and a sink, all of which can be designed to fit any space, enabling you to dine outside as often as you like.