Kitchen wall tiles bring as much to the overall look of a kitchen as the worktop or cabinets. They add character and can brighten up your kitchen space, making them a vital element that can make or break your dream kitchen colour scheme, while also protecting your kitchen walls. The personal touch of carefully selected kitchen wall tiles will immediately transform the heart of your home.
Whether you choose classic styles, mosaics or geometric designs, we've collated the latest kitchen wall ideas and trends so you're sure to find the style for you.
Immerse yourself in the top kitchen wall designs to help inspire your next kitchen remodel project, for every style and budget.
1. Bright white tiles
White kitchen wall tiles are the ideal addition to a small kitchen to help brighten and open the space, and adding neutral white tiles creates a timeless backdrop for bolder cabinets or countertops.
Get personalised advice from fully qualified kitchen specialists near you.
FIND A KITCHEN SPECIALIST
2. Dark tiles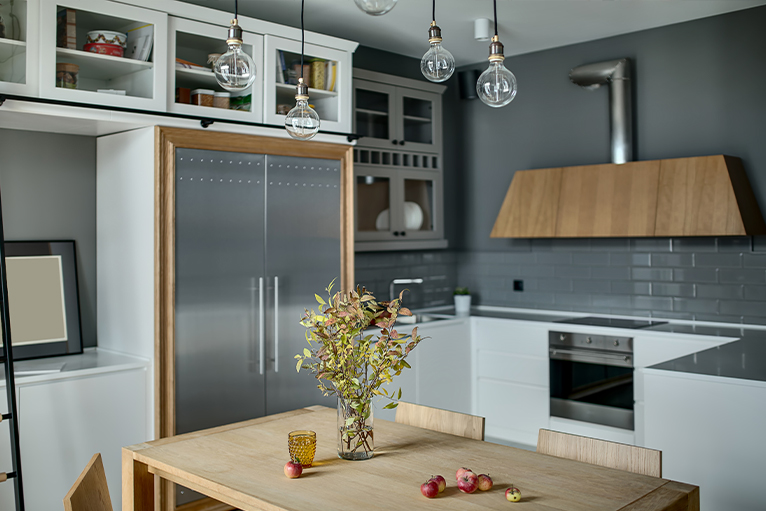 Adding dark greys or black tiling to your kitchen walls will create a dramatic and luxurious impact in your kitchen. Offsetting dark kitchen tiles with metallic or green fixtures or paintwork will add extra depth to your culinary space.
3. Patterned tiles
Create a feature splashback wall with patterned tiles in your kitchen. Choose from a vast variety of tiling that best suits your kitchen style, such as small ornate tiling or bold geometric detailing. Patterned tiles will enhance the overall design of your kitchen whilst remaining refined and striking.
Get a kitchen wall tiling price quote by posting your job on Rated People.
FIND A TILER
4. Marble tiles
Thinking of how to exude a sense of luxury in your kitchen? Polished marble kitchen tiling could be the best option for you. However, if you're remodelling your kitchen on a budget simply adding marble-effect tiles can create the same impact but for a lot less.
5. Rustic tiles
Rustic kitchen wall tiling is the perfect addition to any farmhouse style kitchen. Rustic tiling will ensure your kitchen walls continue the essence of a farmhouse style, but with modern upgrades and finish.
6. Faux bricks
Brickwork kitchen tiling will instantly elevate your interior colour scheme. With the help of manufactured tiles designed to create the colour and texture of real brick walls, you can transform your kitchen design without breaking the bank.
Does your kitchen remodel require specialist help? Find qualified and trusted tradespeople on Rated People.
FIND A KITCHEN SPECIALIST