57% of UK homeowners want to be more eco-friendly, according to The Rated People Home Improvement Trends Report: 2021. Right now, homeowners are booking in green trades work – from solar panel installation to wall insulation. Here are some actions that you can take to make sure that you're ready for the demand for energy-efficient home improvements.
Improve your online presence
Before the coronavirus (or COVID-19) pandemic hit, many trades businesses relied on word-of-mouth and other similar sources of work. However, with people spending more time on the Internet during lockdown, lots of trades businesses are moving online to thrive. And, they're using online services like Rated People to reach new customers.
Now that lockdown's easing, people are investing their savings from commuting and leisure activities into improving their homes.
You can make sure that you're at the forefront of their minds for this work by having a strong online presence. This includes:
Replying to any reviews or comments that your business receives online. This gives you the chance to showcase good customer service, and also lets your clients know that you value their feedback.
Showcasing your work on social media. By doing this, you'll expand your reach. It only takes one connection to share your work for it to be seen by someone who's in the market for home improvement work. You can share the positive ratings that you get on Rated People directly to social media with our new sharing feature.
Creating new content that's valuable to your industry. Examples include quick tips, case studies, videos and product or service guides.
Boosting your website's search engine optimisation (SEO). This will help your business to show up higher in Google searches for your trade. If you're a Rated People member and you don't have a website, your unique profile page already acts as one for you.
Tracking customer data. By doing this, you can see how many new client opportunities you're getting through digital marketing.
Check out our digital marketing tips to make your small business stand out post-lockdown for more advice.
Add skills to your Rated People profile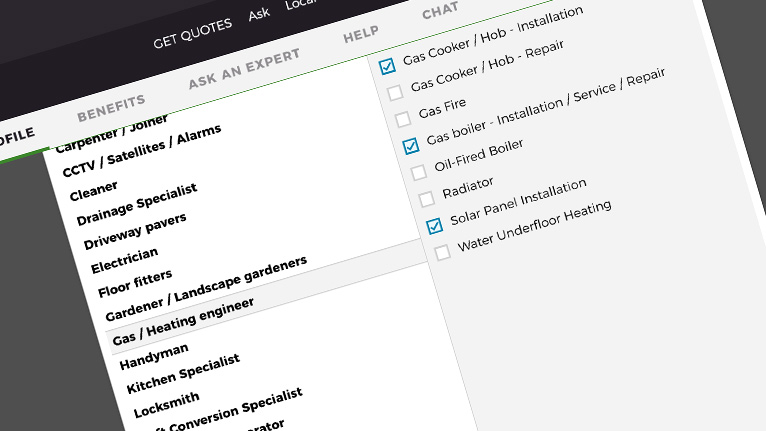 Add the relevant skills for eco jobs to your Rated People profile now. It'll increase your chances of winning the new work for your trade. Some examples of relevant skills for green trades work include:
Double and triple glazing
Energy-efficient doors
Heating controls and insulation
Hot water tank/appliance tank thermostats
Water tanks and Immersion Heater
Electrical installation/testing
Radiator
Heat pumps
Heat pump (air source/ground source)
Insulation
Cavity wall insulation
Underfloor insulation
Roof insulation
Thermal insulation
Solar panels
Find out how to update your Rated People profile with expert tips from Harriet in our Customer Success team.
Increase your business capabilities
The government's new Plan for Jobs 2020 includes financial incentives for businesses that hire young people and bring furloughed staff back. This will allow you to increase your workforce at a reduced cost and will also help you make sure that you have enough staff to meet the increased consumer demand for green jobs.
The Plan for Jobs 2020 includes:
Cash incentives for new apprentices
You'll get £2,000 for each new apprentice that you hire aged under 25, and £1,500 for new apprentices aged over 25, between 1st August 2020 and 31st January 2021. This cash incentive is in addition to the existing £1,000 payment that you already get for new 16-18-year-old apprentices and apprentices aged under 25 with an Education, Health and Care Plan. This incentive will rise to £3,000 for new apprentices taken on from 1st April 2021 to 30th September 2021, regardless of their age. Read more in our apprenticeships guide for employers.
Job Retention Bonus
You'll get a £1,000 incentive for each furloughed employee that you bring back (they must be continuously employed until at least 31st January 2021).
Kickstart Scheme
A new scheme, offering 6-month work placements for 16-24-year-olds that are on Universal Credit and are at risk of long-term unemployment. There's no cost to you if you provide work placements through the scheme. This is because the government will cover 100% of the National Minimum Wage plus the associated National Insurance contributions and employer minimum automatic enrolment contributions. Employers can now apply for funding through the scheme on Gov.uk.
Traineeships
You'll get £1,000 for each trainee (aged between 16 and 24) that you provide with work experience. Young people with Level 3 qualifications and below will be eligible to take part.
You can read more about these initiatives on Gov.uk.
Upskill and gain the required certifications
If there's an eco job that you'd like to offer as part of your services, now's a great time to do some training. We've teamed up with Access Training to give a 20% discount on their training courses to our tradespeople on annual plans. Find out how you can get this discount on our Trade Advice Centre.
On the lookout for management training? The government's Help to Grow scheme is giving free training, advice and discounted software, to up to 130,000 small-to-medium sized businesses. Read more in our blog post: Help to Grow scheme: Discounted digital tools and management training for SME businesses.
Develop a COVID-19 work policy
It's important that you create a company policy explaining how you'll protect all your employees from coronavirus. It should include the preventative measures that you're taking to mitigate the risk of COVID-19 spreading, plus staff guidelines.
You can create a COVID-19 work policy by:
Completing a risk assessment – Follow the HSE guidance on the steps that you should take to do this.
Creating infection control plans – Implement concrete actions. Examples include organising secure delivery drop-off points and disinfecting your fleet of vehicles regularly.
Reviewing your operating procedures – Check out the Federation of Small Businesses 'COVID-19: Health and safety checklist' for advice on this.
Introducing green processes – In the Rated People Home Improvement Trends Report: 2020, we found out that 35% of homeowners would be more likely to hire a tradesperson if they were eco-friendlier. Take a look at our tips to make your business more eco-friendly to find out how you can do this.
We've also put together our top tips on working during the coronavirus outbreak. This includes the latest government advice for the construction industry too, which you can use in your COVID-19 work policy.
As you get ready to take on the new green jobs, check out 6 lockdown lessons about running a business. By using these learnings after lockdown, your business can come back better and stronger from the pandemic.